Access
Network with conference attendees at panels and receptions with unlimited access to all conference sessions and events.
Awareness
Expand your outreach and visibility to more professionals in the political science profession by ensuring that your company brand is remembered from its presence in our exhibit hall, website, and print program.
Publications Showcase
Showcase your books and journals to conference attendees who are interested in the latest political science scholarship or seeking to publish their own work.
Technology & Product Demonstrations
Provide attendees with hands-on demonstrations of products and services that can benefit their research, teaching, or career advancement.
Who Typically Attends MPSA?
University Faculty

Post-Doctoral Researchers

Graduate & Undergraduate Students

Data & Policy Analysts

Teachers

Higher Education Executives
Who Exhibits & Advertises at MPSA?
University Presses & Publishers
Research Organizations & Think Tanks
E-Learning & Higher Education Services
Computer Software & Technology Companies
Nonprofit Civic, Social, & Public Policy Organizations
Government Agencies
Fellowship & Grant-Making Foundations
Job Services
Associations
Exhibit Booth Opportunities
Exhibit Booth Details
Each 8'x10′ exhibit booth comes with:
8′ high back wall (2 color max scheme)
3′ high side drape (1 color max scheme)
(1) 6'x30″ draped table
(2) Limerick side chairs
(1) wastebasket
7″x44″ one-line booth ID sign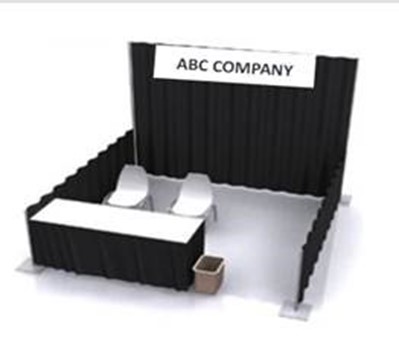 Additional furnishings may be ordered through the Freeman Company prior to the conference.
Exhibitor Benefits
4 complimentary conference registrations
In-person exhibitors receive a free virtual exhibit
Rotating logo and hyperlink on the MPSA website until Fall 2024
Ongoing opportunities to be featured in the MPSA newsletter, blog, and social media
Advertising Opportunities
Why Advertise?
The print program is used as a reference by attendees not just during the conference but throughout the year. If you don't wish to exhibit, you may also select one of our advertise-only options. All in-person attendees receive a copy of the print program, and both in-person and virtual attendees receive the daily email newsletter each morning during the conference.
Print Ad Specifications
Ad files must be submitted no later than Friday, March 1, 2024
Must be 300 DPI
Must be full bleed and use the following measurements:

Bleed size: 8.75″ x 11.25″
Trim size: 8.375″ x 10.875″
Live Image size: 7.375″ x 9.875″

Must be submitted in black & white (only cover ads should be submitted in full color)
Must be submitted as a high-resolution PDF
Sponsorship Opportunities
Let your customers or clients know that you support political science scholarship and the important work being done by MPSA members in the discipline. This year's sponsorship opportunities have been designed to maximize your visibility by focusing on high-traffic areas and well-attended events. For more information or to discuss other partnerships, please contact Lewis Hoss at hoss@mpsanet.org.
Registration Kiosk & Lanyard Sponsor
($7,500)
Exhibit booth included
Branding on registration kiosk screens
Branding on conference lanyards
One full-page print program ad
Conference daily email newsletter ad
Charging Station Sponsor
($5,000)
Exhibit booth included
Branding on cell phone charging stations (located in registration area and exhibit hall
Two custom signs (one meter sign and one medium sign)
One full-page print program ad
Conference daily email newsletter ad
Conference Wi-Fi Sponsor
($5,000)
Exhibit booth included
Branded Wi-Fi password for onsite attendee wireless access
Two custom signs (one meter sign and one medium sign)
One full-page print program ad
Conference daily email newsletter ad
Welcome Reception Sponsor
($5,000)
Sponsorship reflected in the event title
Two custom signs (one meter sign and one medium sign)
One full-page print program ad
Conference daily email newsletter ad
First-Time Attendee Reception Sponsor
($2,500)
Branding on table signs during the reception
Speaking opportunity at start of event
Two custom signs (one meter sign and one medium sign)
One full-page print program ad
Conference daily email newsletter ad
Mentoring Reception Sponsor
($2,500)
Branding on table signs during reception
Speaking opportunity at start of event
Two custom signs (one meter sign and one medium sign)
One full-page print program ad
Conference daily email newsletter ad
Professional Headshot Sponsor
($2,000)
(3 available)
One custom meter sign at the headshot station
Branding in all emails and communications about the headshot station
Digital signage throughout the conference venue
Information Desk Sponsor
($1,000)
One custom meter sign at the information desk
Display catalogs, branded handouts, and other materials at the information desk
Conference daily email newsletter ad
Welcome Bag Sponsor
($1,000)
One custom medium sign in the registration room
Place catalogs, branded handouts, or other materials in conference welcome bags
Conference daily email newsletter ad