MPSA sponsors many awards for outstanding research presented at the annual conference and one award for the best article published in each volume of the American Journal of Political Science (AJPS). With the exception of Flagship Awards, nominations are made by conference chairs, discussants, and section heads after the conference. Chairs and discussants may only submit nominations for the session in which they served as chair or discussant. Section heads may only submit nominations for their section. Award committees select the winning papers and awards are announced at the MPSA business meeting the following year.  Self-nominations are not permitted. View the 2021 award winners, the award recipient archive, and past awards committees.
An Invitation to 78th Annual MPSA Conference Chairs, Discussants and Section Heads: Nominate Outstanding Research
MPSA encourages individuals with section or panel responsibilities to nominate outstanding research to be considered for field, subfield, or career stage awards.
Please click the links following each award description below to submit your nomination(s). The deadline for nominations is July 1, 2021. Winners will be notified in late fall.
Flagship Awards:
Field Awards:
Subfield Awards:
Career Stage Awards:
Application to Name or Create an MPSA Award
Propose a new award by submitting the form here.
Make a Donation to an MPSA Award or Scholarship
Gifts to the association help to support awards for best research presented at the annual conference and in the American Journal of Political Science. Gifts from generous donors also support conference attendees through the Conference Registration Fee Waiver Scholarships, Harrell Rodgers Graduate Student Travel Scholarships, and MPSA Childcare Scholarships.
Donate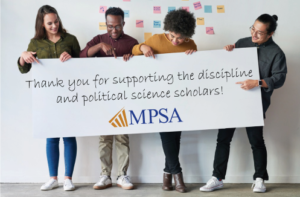 Donate Online: You may donate to the Scholarship of your choice. Your support of the discipline and political science scholars makes a difference!
Prefer to donate with a check? Please complete the MPSA Donation Form (PDF) and mail it to the MPSA office.