Please upload your research to the online conference program by April 1, 2023. Uploading your research early allows for those attending your session to come prepared with meaningful feedback. Instruction on how to upload your paper can be found below. Instruction on how to access and download the research that has been uploaded to the online conference program can be found here.
Step 1. Login to the MPSA website at www.mpsanet.org
Navigate to www.mpsanet.org and select the My Account button at the top of the screen.
After signing in, choose the Upload Paper button on the screen:

Step 2. After clicking on Upload Paper, click Main Menu (Submission Site) under the navigation menu. Please note, if your screen does not look like the image below, skip to step 3 and disregard step 2.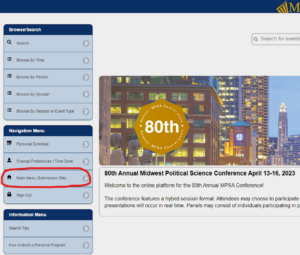 Step 3. Scroll down to the Submitter Menu and select Track or Edit a Proposal, and Upload Paper.

Step 4. Select upload to upload your paper to the conference archive. If you are one of multiple authors on a paper and one of your co-authors has already submitted the paper, you will see a download link below the upload link. If you continue to upload a paper when there is a download link, you will override the previously uploaded paper.

Step 5. Select Choose File and navigate to the file* you wish to upload.
*You may upload the following formats: Microsoft Word, Adobe PDF, Word Perfect, Plain Text, Rich Text Format.
Step 6. Select Upload and continue. You will receive confirmation of your completed submission by email. All submitted files are converted to Adobe PDF.