Poster Guidelines and FAQs
If you are participating virtually, you can view the virtual conference instructions here. View Session Times, Formats and Role Descriptions here.
Poster sessions will be held Thursday through Saturday in the 4th Floor Exhibit Hall of the Palmer House. Each poster presenter is assigned to a numbered display panel on the perimeter of the Exhibit Hall. You will be able to view your assigned number in the online conference program later in March, and in the printed program at the conference.
Authors will be present to answer questions and distribute copies of their paper or other handouts for the duration of their scheduled session. Unless informed otherwise by the section head, authors are expected to be present for their entire session.

Poster Format and Content
Would you like to see a poster session in progress? Watch this short video on Giving an Effective Poster Presentation for examples and tips.
Poster Format
Each presenter is assigned to a numbered display panel that will hold the poster and any other printed materials you would like to display. The display panel is 4' x 8' and the recommended poster size is 2' x 3'.
All presentation materials should be prepared for quick assembly. Poster materials are to be attached to the designated display panel by presenters approximately 15 minutes before their session begins. Push pins will be supplied at each display panel to attach poster materials to the panels. Presenters must remove their materials from the display panels promptly at the end of their session for the next presenter.
Poster Content and Suggestions
Well-conceived posters present findings in an easily comprehensible manner. The materials should exploit the visual aspect of the poster format. For example, the use of color can highlight key aspects of an analysis and bring the viewer's focus onto elements the author believes are most important. Graphs or tables may be presented more effectively on larger pages. Simply attaching the pages of a paper to the display panel does not constitute a poster presentation.
Title, Authors, and Institutional Affiliation: Provide this information on a strip of paper at the top of the display panel. Lettering height should be no less than three inches. The text of the paper should be visible from five feet.
Abstract: Display a one-paragraph abstract in the upper-left corner of the display panel, directly under the title. The text should be visible from five feet.
Hypotheses, Graphs, and Tables: If clearly stated and simply displayed, these allow the reader to understand the research without extensive written explanation. Briefly identify the research design and relevant literature as well.
Clear Sequence: The layout of findings should follow the sequence of the paper clearly. Numbering figures or using arrows greatly aids the reader's quick absorption of material.
Avoid Clutter: Do not clutter the presentation with too many figures and avoid too much written material. The benefit of the poster presentations is the reliance on graphics to spark interest in reading the entire paper. More open space is easier on the eye, and its simplicity supports the clarity of presentation.
Plan Ahead: Preview the presentation prior to the conference to make sure information is legible from a distance of five feet.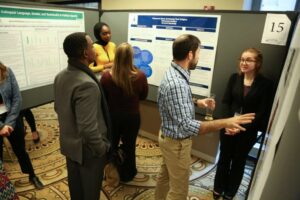 Frequently Asked Questions
What date/time is my poster session?
You can find the schedule for your poster session in the online conference program. The online program is searchable by participant name, session time, and session format.
If I am presenting a poster, do I also have to upload my research paper to the MPSA online conference program?
Yes. Uploading your research to the online conference program (instructions found here) allows fellow attendees and your discussant to review your research in advance of your presentation. Posters can be presented in-person or virtually. Regardless if your plans are to present in-person or online on the virtual platform, all poster presenters must upload their papers to the online conference program. Instructions for uploading your paper can be found here. You might also consider sending it to those in your session via email as a courtesy. To view email addresses, click on a participant in the online program (you must be logged in to view email addresses).
In addition, those who are presenting virtually must create a virtual poster for the online poster gallery. This is optional for in-person only poster presenters (but highly encouraged so virtual attendees can view your research poster). Instruction on how to create and upload your virtual poster can be found here.
If I don't want to travel with my poster, is there anywhere nearby to have one printed?
Printing will not be provided onsite, so presenters should bring their pre-printed posters to the conference with them or be prepared to arrange for printing in Chicago. The FedEx Office Print & Ship Center and the UPS Store located adjacent to the Palmer House both provide poster printing services. You can learn more and see their rates on their respective websites.
What materials should I bring to the conference for my poster presentation?
Please bring a copy of all presentation materials you plan to attach to the display board, as well as a copy of your research paper, and copies of any handouts you would like to share with your audience.
Where should I set up my poster?
Poster presentations will take place in the Exhibit Hall on the 4th floor of the Palmer House Hilton during regular exhibit hours. Poster presentation display panels will be placed in numerical order around the perimeter of the room. You will be able to view your assigned display panel number in the online conference program later in March, and in the printed program at the conference.
How early can I set up my poster?
Be sure to arrive in plenty of time to pick up your registration materials, as certain times in the registration hall may be busier than others. You must have your name badge in order to enter the Exhibit Hall where the poster presentations take place. You may start setting up as soon as the previous presenter is finished (usually 15 minutes before your scheduled time).
When should I set up and take down my poster?
All poster materials should be prepared for quick assembly 15 minutes prior to the allotted presentation time. Poster materials should be removed promptly at the end of the presentation to enable the next presenter to set up.
Where can I store my poster when I'm not presenting?
A coat check is available on the 4th floor of the Palmer House Hilton. They may be able to store your poster for a small fee. Otherwise, please plan to carry your presentation with you, as MPSA is not able to store poster materials.
I signed up to present a poster but was placed on a Standing E-Panel session instead. What should I do?
Standing E-Panel sessions are also held in alcoves in the 4th floor Exhibit Hall and are arranged for the digital presentation of posters on large monitors. To use your prepared poster during a Standing E-Panel session, please bring a .pdf file of your poster on a USB flash drive. The session monitors will be set for a horizontal presentation and will be able to display PowerPoint or .pdf files. The alcoves will also be equipped with a traditional poster board in case you have already printed a poster that you would like to bring.